The Service
At CHAM we offer a high quality and affordable CFD consultancy service tailored to suit a client's individual needs. It can often be a cost effective option to provide answers to problems where dozens of scenarios must be trialled greatly reducing the need for physical experimentation and prototypes reducing the time and cost to market. Combined, our engineers have decades of experience performing flow simulations for a wide range of industries.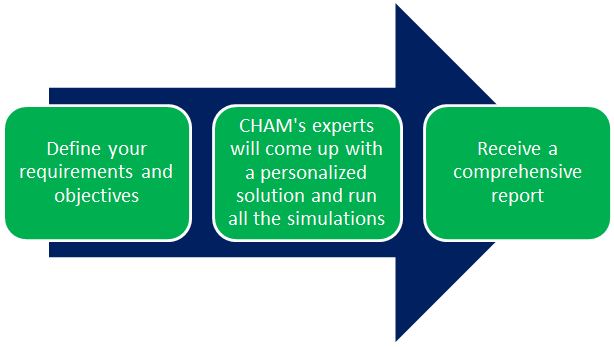 Extended Consultancy Service
At CHAM, we can also help you set up your own cases and run them in a collaborative fashion. This can be useful in many cases such as:
This can allow you to gain knowledge of how to use our products while completing your project in a timely manner.
You may require general advice about the best way to model a particular physical process or equipment item, making use of the available features of PHOENICS. CHAM's staff can spend time in studying your specific problem and provide you with the methodology to complete your project yourself.
High Performance Cluster Access
Some of the biggest, most complex cases will take an inordinate amount of time to run on a regular desktop. It is for these cases that it's useful to have access to an HPC cluster that can massively reduce the time it takes to perform these simulations. At CHAM we have a 76 core cluster that can be run 24/7, giving our clients a cheap way to meet the tightest of deadlines.